Ready to Grow Your Business?
Get started with NASMM's HR in a Box!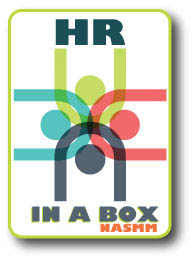 Your business is growing, you are hiring employees — now what?
Creating an employee handbook is challenging! With NASMM's HR in a Box, you now have access to a completely customized employee handbook — specifically designed for Senior Move Managers! From hiring and on the job safety to the all important non-compete clause — make HR in a Box part of your HR plan!
With HR in a Box you can quickly and easily develop your own employee handbook with our customizable forms and tools!
Benefits of HR in a Box
Purchase Once — use over and over
Completely customizable
Designed for Senior Move Managers®
Reduces risk of Workers Compensation injuries
Reduces legal fees
Leverages your time to grow your business
Immediately available through NASMM's 24/7 online store!
What's Included?
Complete Employee Handbook

On the job
Safety
Pay and benefits

5 Customizable Power Point presentations with accompanying quizzes to demonstrate learning including:

Safety
Employee Handbook Overview
On the Job
Pay Practices and Benefits
Code of Conduct

Customizable HR Forms

Employment Application
Authorization for Background Check
Non-Compete agreement
Employee Evaluation
New Hire Checklist
Equipment Receipt
NASMM Members $249
Non Members $699