Now Available From NASMM!
Industry Established Senior Move Management and Business Development Training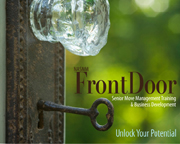 The leading provider of Senior Move Management support and services now offers the most complete training for organizations who are downsizing or moving seniors. Introducing NASMM's FrontDoor Senior Move Management and Business Development Training — is the industry standard in Senior Move Management training — providing the most up-to-date and comprehensive Senior Move Management training available. Simply said, NASMM's FrontDoor Training is the smart senior move manager's guide to success!
"FrontDoor invites you into a new world of serving those who must move and downsize. Many of us come to this having done the downsizing, de-cluttering and moving for friends or relatives. That type of experience can certainly tell you whether you like the work and can handle the sensitivity and psychology involved, but it doesn't tell you about the BUSINESS aspects. FrontDoor gives you a head start on getting your business started in a professional way."
— Lisbeth Chapman, Extra Daughters, Wellfleet, MA
I just wanted to drop you a note to let you know how valuable the FrontDoor Training has been. At this point, I have just about completed all of the training. I almost can't believe how much I have learned through your program. I am wondering how anyone gets started in this industry without it!
I firmly believe that without this comprehensive training, we would not be prepared to get started. Literally, we have followed nearly all of the suggestions you provided regarding insurance, who to contact as referrals, floor planning, reviewing and tweaking your forms, etc. We especially valued the audio training. There was a lot of good, real life information in them that will help us do a better job with home visits, estimating jobs, etc.
Anyway, to summarize, you have done a tremendous job with the FrontDoor Training. It was well worth the money we spent on it. There is no way we could be prepared and ready to go this fast without it.
— Mary Clark, Transition Connections, Inc., West Lawn, PA
See what others are saying about NASMM's FrontDoor Training.
Accept no substitutes and learn from the leaders!
NASMM's FrontDoor Training Includes:
250+ page, self-study manual covering the most essential skills in Senior Move Management, marketing, and understanding and working with older adults
Compelling case studies
"In the trenches" authenticity — real SMM concerns, challenges, and client conversations uncovered
Proven tools and resources to help you understand and navigate the aging services network
Un-matched business development tools and support
Expansive online file library of customizable, must-have tools including:

contracts
liability statements
estimating tools
client intake forms
client satisfaction tools
sample proposals
client billing forms
essential checklists, tip sheets and more

Customizable marketing launch letters, sample brochures, marketing materials and more
Five Essential Audio Modules including:

Welcome to Senior Move Management
First Impressions: Maximizing the Client Consultation Process
Estimating Essentials for the Senior Move Manager
Coming of Age: Marketing Strategies and Tools to Engage Older Adults
A Moving Experience: Working with the Client with Dementia

A Certificate of Achievement, upon course completion — recognizing you are a "NASMM Trained" Senior Move Management Company. You can include this certificate in your sales and marketing presentations to senior living communities, referral sources, and potential clients.
NASMM Member Introductory Price: $999 (includes shipping) – now $699!
NASMM's FrontDoor training is undergoing a major revision. Until the new product is ready, NASMM is offering the current version at a discounted price of $699.Please note, the training will be emailed to you in a .pdf format. The magnetic space planner will be mailed to you.
Because this program is based on NASMM's Standards of Practice and highly-regarded Code of Ethics, the FrontDoor Training program is only available to NASMM members.
Click here to order the FrontDoor training online.
Allow 14 days for shipping and handling of the QuickPlanner.