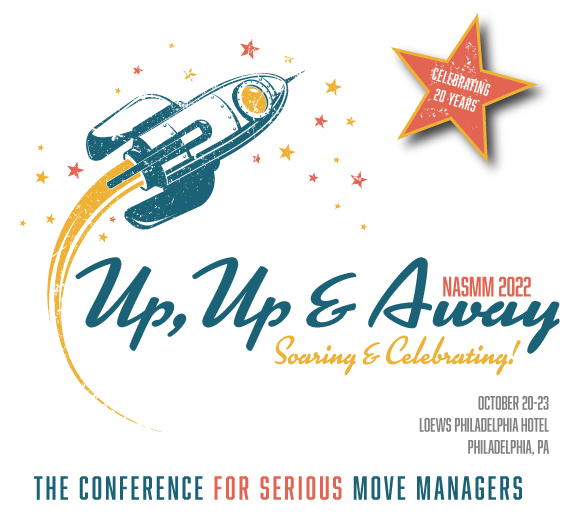 NASMM welcomes you back for our 2022
In Person Conference!
October 20-23 at the Loews Philadelphia Hotel.
We are so excited to announce the dates and location of NASMM 2022!
We're bringing NASMM 2022 to PHILADELPHIA - October 20-23! Philly is where NASMM was founded and it's only fitting we celebrate NASMM's 20th anniversary in NASMM's birthplace!
You can now make your hotel reservations!
Room Rate: $239.00 single or double occupancy. Click here to make your reservations!
Registration for the conference will open in April 2022.
We can't wait to be back together!
Now Accepting Proposals for Leaning Lab Presentations!
NASMM 2022 is an inclusive opportunity for all Specialty & Senior Move Managers® to engage in exceptional learning experiences for professional development, individual productivity, and organizational success.
Do you have experience and/or expertise in any of the areas noted below, and are you willing to present a one-hour session at NASMM 2022 in Philadelphia October 20-23, 2022? Do you know one (or two) other people with whom you'd like to present? We'd love to hear from you! NASMM will review proposals from both NASMM members and professionals from outside the membership who can provide expert content in the areas highlighted below.
What we're looking for in 2022:
While we welcome and encourage ALL education proposals for consideration, we want to share our "wish list" for NASMM 2022. An invited group of seven diverse NASMM members highlighted these topics as areas of ongoing interest. Our list is like the old Sears Christmas catalog (Remember The Wish Book?): We want everything…but know we can't have it all. Here's hoping:
Strategic Planning
Leadership Development for Small Business Owners
Strategies for Reaching Baby Boomers
Trends in the Senior Living Industry
Additional Sources of Revenue for Move Managers
What Exactly Are "Specialty Moves?"
Managing Expectations for a New Generation of Consumer
Core Business Training (What Do I Need to Do & How Do I Do It?)
HR
Resolving Conflict – Among Your Clients, Families & Employees
How to Build a Great Team: Hiring Slow, Firing Fast & Other HR Wisdom
Mental Health
What is our responsibility to our employees?
Work-Life Balance for Us & Our Employees
Operations
Profitability
Analyzing Profitability
What's the ACTUAL number we need to determine our profitability?
Estimating (& Exploring New Tech for Estimating)
Marketing
SEO Optimization for Our Websites
How Do Consumers Find Us?
Blogging! What? Why? How?
I Want to Start a Podcast!
Your Best Marketing Tools – Show & Tell
Shifting Our Marketing Mindset to Boomers (vs. Greatest & Silent Generations of the Past)
Overcoming Client Price Shock & Highlighting Our Value
Client Services
Dementia Training
Aging Issues Expertise
Customizing Our Client Experience
Packing Hacks
It's About Time: Diversity & Inclusion
Technology
Software Tools to Help Move Managers
About the Review Process
All proposals will be evaluated (anonymously) by the NASMM 2022 Proposal Review Committee based on the following criteria:
Ability to Inspire Action
Originality
Overall Quality
Relevance Specific to Our Membership
Key Points to Remember:
This step is just the proposal! Your session does not need to be submitted in its entirety. Just give us a good snapshot! There's plenty of time for all those pesky details later.
Proposal must be received by Monday, February 28, 2022.
All selected presenters will be given a special code for a $250 discount on their conference registration.
Panel presentations must be limited to three (3) presenters.
Thank you in advance for your time and for sharing your ideas, expertise, and leadership. If you have questions, please reach out at any time.