The National Association of Senior Move Managers is proud to support Move For Hunger as our philanthropic partner. We are excited to introduce this program to you and hope that you will enthusiastically support it.
About Move for Hunger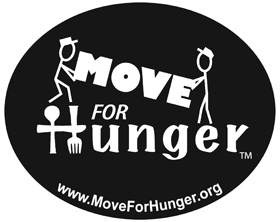 Move For Hunger was created to help strengthen the efforts of our nation's community food banks. By teaming up with the moving industry, Move For Hunger is creating one of the nation's largest year-round service programs. Move For Hunger approved movers work with approved NASMM members to pick up the unwanted, non-perishable food items from those who are moving and deliver it to community local food banks.
Approximately 40 million people relocated in the United States in 2010. Move For Hunger works to enlist those who are relocating to donate unopened food that they will not take to their new destination.
NASMM members can choose to support this program through their work with their older adult clients and their families. The NASMM Board of Directors chose to support Move For Hunger, as it compliments our members' commitment to quality client service.