Margit Novack Award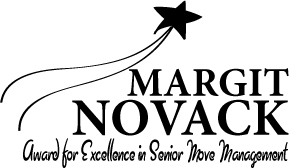 The Margit Novack Award for Excellence in Senior Move Management was created in 2011 in honor of NASMM's Founding President. Recipients of the Margit Novack Award have demonstrated contributions that significantly and consistently impact the advancement and/or recognition of the Senior Move Management profession through service to the National Association of Senior Move Managers. Additionally, recipients have advanced his or her organization mission and demonstrated sound business practices while showing exemplary leadership and involvement in their community, their business and NASMM.
Past Recipients
2022 Recipient: Jennifer Prell, Pamex, Inc., Lake Zurich, IL
2020 Recipient: The Wheaton Group, Indianapolis, IN
2019 Recipient: Gloria Bersani & Mary Jo Zeller, Lutheran Life Care Communities, Arlington Heights, IL
2018 Recipient: Karen Shinn and Gail Shields, Downsizing Diva, Toronto, ON Canada
2017 Recipient: Mercedes Gunderson, accepted by her son, Greg Gunderson, Gentle Transitions, Manhattan Beach, CA
2016 Recipient: Barry Izsak, Arranging It All, Austin, TX
2015 Recipients: NASMM Ethics Compliance Commission Members

Margit Novack, Moving Solutions, Havertown, PA
Beth Warren, Redefined Living, Clearwater, FL
Joan Roover, A Thoughtful Move, Inc., Waltham, MA
Charna Kinneberg, Senior Transitions, Inc., Abington, MD

2013 Recipient: Barbara Morris, Smooth Transitions, Louisville, KY
2012 Recipient: Peg Guild, Assisted Moving, Raleigh, NC
Circle of Service
Honoring Service, Commitment, Experience


NASMM's Circle of Service designation was established in 2010 to recognize our members who have attained an elevated level of experience and expertise. The Circle of Service is awarded to NASMM veteran members who have been a member, in good standing, for a minimum of five years.
In 2014, NASMM introduced the Diamond Society. NASMM's prestigious Diamond Society recognizes Circle of Service members with 10 or more years of NASMM membership in good standing.
The Circle of Service and Diamond Society logos appear on the profiles of the NASMM members who have achieved this recognition. Click here to find Circle of Service and Diamond Society Members on the NASMM Find A Move Manager map.