September 28, 2018


Full Conference Program Now Available!
Set against the majestic shores of the Pacific Ocean, San Diego is home to NASMM 2019 - March 7-10 at the San Diego Hilton Resort & Spa on the Mission Bay Beach! From our Master Classes (featuring Teepa Snow,) our Learning Labs and powerhouse Speed Networking sessions to our jammed pack Expo and bonfires on the beach, NASMM 2019 is not to be missed. And, to sweeten the deal, you can now save on your registration fees!
Early Bird Rates are now in effect!
The full list of Learning Labs is now available and this year's line up is better than ever! We don't disappoint! Click here to register!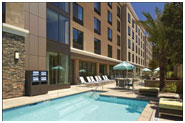 Overflow Rooms Added for NASMM 2019
Due to overwhelming need, NASMM has added an overflow hotel property to accommodate NASMM 2019 Attendees. You can now make a reservation at the Hampton Inn Mission Valley. This property is just seven minutes from the Hilton! The room rate is $149 single/double occupancy. You can make your reservation by calling 800-426-7866 and mentioning the "National Association of Senior Move Managers block" or code SM2 at the Hampton Inn San Diego Mission Valley. You can also book your room online by clicking here.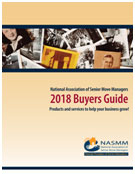 NASMM's Annual Buyers Guide Now Available — Shopping at Your Fingertips!
This publication is your one-stop shopping guide to all of NASMM's current Industry Partners. NASMM's Industry Partners are more than just vendors. They are partners in creating the future of Senior Move Management®. These special companies recognize the value of the services you provide, and have chosen to support you through NASMM's Industry Partner program.
NASMM's Industry Partners offer programs and services to help you expand your business, develop new revenue sources and streamline your day-to-day operations. Many NASMM Industry Partners offer special discounts to NASMM members. We encourage you to take this opportunity to review the many resources available to you through your NASMM membership. We hope you find this guide beneficial in your research and selection of vendors who support you through their support of NASMM. Click here to view the Buyers Guide!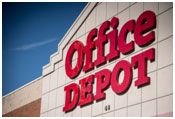 Are You Saving $$ with NASMM's Office Depot Store Purchasing Program?
Office Depot® and NASMM have partnered to provide exclusive benefits and savings to its members including:
Customized pricing to fit the specific needs of your business
Curated assortment of products and services
The flexibility to shop online at business.officedepot.com and at any of our retail locations with your Store Purchasing Card
FREE, next-business-day delivery on qualifying orders of $50 or more within our local delivery areas. (See our Terms and Conditions for details.)
World class customer service for quick problem resolution
Experienced account managers to help improve productivity and uncover cost savings
Convenient payment options including single account billing or consolidated billing for multiple locations
To access this program, visit the "Business Solutions" page of "MyNASMM" and access more details and your store purchasing card!
---

Baby Boomers are Struggling to Downsize and It Could Create the Next Housing Crisis
Veronica Dy and her husband had their retirement plan all mapped out. They recently sold their large family home in San Gabriel, California, for $850,000 and walked away with $250,000 in net proceeds to put toward a smaller home in Los Angeles to be closer to their son's family. They figured it would be easy to find a quaint, two-bedroom home where they could age in place without overspending on housing.
Read more.
Forget 'Senior Citizen' — Aging Baby Boomers Search for Better Term
There's a new way to describe old. It's "perennial." Not everyone likes it. Pam O'Brien, 69, thinks it's contrived. Ms. O'Brien, who teaches full time in the Public and Professional Writing Program at the University of Pittsburgh, says there are better, more appropriate terms. She personally doesn't mind "elder," as she is an elder at her church, along with other people ranging in age from the 30s to the 80s. But she's not a fan of "elderly" and neither are her friends, who were upset when they were described by a younger couple as "the elderly couple."
Read more.
Is the Assisted-Living Community Ready for Solo Agers and Baby Boomers?
Will the Baby Boomer generation have different requirements when they start to need aid and assistance? On the one hand, no. They will have the same needs for help with the basic activities of daily living, and what they can't get at home or in the care of family, they will need to find elsewhere. Yes, Baby Boomers are living longer and healthier, but they will eventually encounter many of the same challenges previous generations have experienced: cancer, heart problems, falls, complications of diabetes, organ failure, etc.
Read more.
Obstacles to Downsizing: The Inner Sentimentalist
In a recent post, I wrote about some of the "voices" that keep me from moving forward with the task of downsizing. In that particular post, I talked about the voices of my "inner ecologist" and my "inner altruist." And I promised to introduce you in a future post to my "inner collector" and my "inner archivist," both of whom also have plenty of reasons (some, though not I, would say "excuses") for not getting rid of certain kinds of things.
Read more.
Can We Fight Ageism Without Turning Our Backs on Ageism?
An unscientific poll of my friends and acquaintances suggests that every person over age 65 has experienced at least one "ah-ha" moment when they felt themselves being dragged, kicking and screaming, over the "age divide."
Read more.
The National Association of Senior Move Managers (NASMM) is the leading membership organization for Senior Move Managers in the United States, Canada and abroad. NASMM is recognized for its innovative programs and expertise related to Senior Move Management, transition and relocation issues affecting older adults.
NASMM
PO Box 209, Hinsdale, IL 60522
Phone: 877.606.2766
www.nasmm.org