April 13, 2018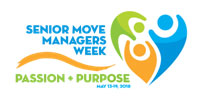 NASMM Announces 2018 Senior Move Managers Week
NASMM has declared May 13-19, 2018 National Senior Move Managers Week. During this recognition week, NASMM and NASMM members around the US, Canada, Europe and Australia are promoting the value of Senior Move Management and Senior Move Managers' commitment to assisting older adults and their families with later lifestyle transitions.
The theme of this year's celebration, "Passion + Purpose," underscores the dedication, compassion, commitment, an unique skills Senior Move Managers® offer their clients and families throughout the downsizing, relocation or aging in place process. Members can access a sample press release and this year's logo in the "Marketing Tools" section of "MyNASMM."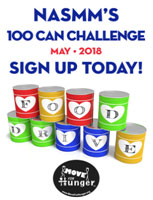 Support NASMM's 2018 Food Drive with NASMM's 100 Can Challenge
NASMM is challenging all NASMM members to collect 100 cans of food during our North American Food Drive which is held in May! If each member could collect 100 cans of food, NASMM could provide 100,000 pounds of food to help fight the US and Canada's hunger problem.
NASMM, Move for Hunger, and our 100 Can Challenge sponsor, MiniMoves have designed this challenge so it's easy for all members to participate! Simply sign up using the link below and NASMM will put our partners in touch with you to get your food drive set up!

NASMM 2018 Conference Recordings on Sale
Missed NASMM 2018? You can purchase recordings of the conference! Twenty-five sessions featuring over 30 hours of presentations is available!
Click here to learn more!

Last Chance to Submit your iMentor Application!
NASMM offers a specialized program specifically designed for experienced NASMM members to offer paid, professional mentoring to less experienced NASMM members. It's called iMentor.
Why iMentor? New or growing small business owners are in business by themselves, often acting as their own navigation system. Without a large organization's resources, they long for a sounding board for their frustrations and fears or a discreet, impartial advisor with whom to discuss the tactical and strategic challenges of running their Senior Move Management business.
They're frequently adjusting to changing circumstances, new business conditions, and unforeseeable challenges. Consulting with a Senior Move Manager mentor — someone who knows what they're going through — can be invaluable. A mentor is someone who's "been there, done that." Mentors can provide tailored guidance, general best practices, and an example of a successful Senior Move Management business. Enter iMentor. We're making it easy for less experienced members to find one-on-one support while also providing successful Senior Move Managers with the opportunity to share their experience and expertise, all while being paid to do so.
NASMM is now accepting applications for new iMentors. NASMM will accept 20 iMentor applications. Submit your application by Friday, April 13.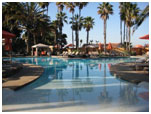 NASMM 2019 — San Diego!
NASMM 2019 will be held March 7-10, 2019 at the San Diego Hilton Resort & Spa! Located on scenic Mission Bay, our San Diego resort is situated on an 18-acre park with lush gardens and rolling lawns, just steps from the beach. NASMM 2019 Attendees will be treated to a newly renovated resort on the shore of Mission Bay. We strongly recommend you make your reservations soon — our block will sell out. The room rate is $189 Single or Double Occupancy.
Call Hilton Hotels central reservations at 800-445-8667
Reference group code NAS319 or National Association of Senior Move Managers
---

Assisting Your Clients in Making Informed Decisions about their Personal Property
As Senior Move Managers, you are often walking into homes with decades of acquired property — furniture, rugs, artwork, silver, etc. Many items may be obvious candidates for donation, such as blenders, old televisions etc., but what about paintings, jewelry, and sets of china? When your clients and their families look to you and ask should we keep or sell these items, how will you answer?
Read more.
Gerontologists Becoming a Hotter Hire as Consumers Age
You've heard about CEOs, CFOs and COOs. But what about a CGO — as in, chief gerontology officer? It may become a job of the future.
Read more.
What It Means When a Person with Dementia Says: "I Want to Go 'Home.'"
At age 86, my father took his first and only commercial airplane flight. His wife died three years earlier from congestive heart failure. He found solace in the basement tinkering with electronic and mechanical parts. He was Mr. Fix It — a member of the Greatest Generation who could and would repair anything.
Read more.
Are You Making These 15 Website Design Mistakes?
Your website is one of your business's most important tools — a 'round-the-clock advocate for your products or services, a machine for lead generation, a virtual storefront, an anchor for your business's social media channels and other online properties, a platform for thought leadership. In some cases, your website is the first impression made to prospective customers.
Read more.
The National Association of Senior Move Managers (NASMM) is the leading membership organization for Senior Move Managers in the United States, Canada and abroad. NASMM is recognized for its innovative programs and expertise related to Senior Move Management, transition and relocation issues affecting older adults.
NASMM
PO Box 209, Hinsdale, IL 60522
Phone: 877.606.2766
www.nasmm.org