November 13, 2015

President's Letter
Hi Everyone!
Last week, the NASMM Board met in Chicago for our annual fall meeting. The weather was spectacular, the discussions inspiring, and the two-day meeting was productive in developing plans to meet our needs as a rapidly evolving association. This meeting was the first opportunity for our new Board to meet face-to-face, and it was an invigorating two days. Read More



NASMM 2016 Is A Must-Attend — But Not For The Reasons You May Think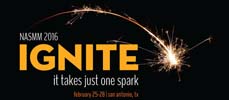 So many great ways exist today to learn and sharpen your skills: you can read blogs, listen to podcasts, watch how-to videos on YouTube, and attend webinars. Why bother with the time and expense of attending NASMM 2016?
Here's why: You may be missing out on one of the best opportunities to take your professional game to the next level. Live, face-to-face events provide powerful learning and career-building opportunities you simply can't find anywhere else. Beyond the obvious reasons to attend — why not consider the following: Read More

NASMM Members Give Back – 2015 Philanthropic Survey Summary
Over 100 members participated in NASMM's 2015 Philanthropic Survey. Thanks to all who participated. Your insights are providing the NASMM Philanthropic Committee with important information as they proceed with the task of expanding NASMM's Philanthropic efforts.
Here are some highlights:
Over 90% of respondents indicate they support local and/or national charities — with the majority providing donations.
62% of respondents indicate they donate time
68% of respondents provide financial donations
44% of respondents donate to charities 2-5 times per month
Move for Hunger, Habitat for Humanity and the Alzheimer's Association ranked highest among members in terms of support
Get Your SMM~C On!
What are you waiting for? Over 80 NASMM members are currently pursuing the SMM~C, the only professional designation based on both knowledge and experience — and the only designation recognized by NASMM! Once you receive the SMM~C, the credential is added to your name and the logo is placed on your profile in the "Find A Senior Move Manager" map. Distinguish yourself and demonstrate your professionalism by achieving certification. Click here for more information.
---

Should Older Americans Live in Places Segregated From the Young?
From 2010 to 2040, we expect that the age-65-and-over population will more than double in size, from about 40 to 82 million. More than one in five residents will be in their later years. Reflecting our higher life expectancy, over 55 percent of this older group will be at least in their mid-70s. While these numbers result in lively debates on issues such as social security or health care spending, they less often provoke discussion on where our aging population should live and why their residential choices matter. Read More
Clutter vs. Hoarding vs. Collecting
Essentially, clutterbugs can be persuaded to let things go; for hoarders, it's a terrible struggle, and dealing with them requires psychological insight and tremendous, informed patience. Read More
How Our Housing Choices Make Adult Friendships More Difficult
Our ability to form and maintain friendships is shaped in crucial ways by the physical spaces in which we live. "Land use," as it's rather aridly known, shapes behavior and sociality. And in America we have settled on patterns of land use that might as well have been designed to prevent spontaneous encounters, the kind out of which rich social ties are built. Read More
Air Wick Captures the Scents of Individual Homes for the Seniors Who Are Leaving Them
The nose recognizes the smell of home, claims this holiday video for Air Wick, whose perfumers custom-created candles to make downsizing less painful for older folks. Read More
How to Use the Power of 'Social Proof' to Attract Customers
Social proof can be a great way to help push your visitors towards a conversion. It doesn't matter what your conversion is, it might be a purchase, it could be a PDF download, or it could be a newsletter signup.

So what is social proof? Read More
3 Tried-and-True Ways to Become Better at Managing People
Managing people is no easy task. But no matter what business you're in, you're going to be working with people, and effectively managing them is critical to the success of your business. Read More
The National Association of Senior Move Managers (NASMM) is the leading membership organization for Senior Move Managers in the United States, Canada and abroad. NASMM is recognized for its innovative programs and expertise related to Senior Move Management, transition and relocation issues affecting older adults.
NASMM
PO Box 209, Hinsdale, IL 60522
Phone: 877.606.2766
www.nasmm.org