Click here to view in browser | Forward to a friend

October 30, 2015

Moving Matters Gets a New Look!
To better meet your needs — Moving Matters has moved from our bi-monthly digital magazine format to a mobile version. With our new format, you'll be receiving timely information, more frequently — in a format that's easy to read from your smart phone or tablet, whether you're in your office or on the road!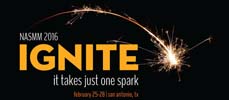 NASMM 2016 Conference Update
NASMM 2016, IGNITE: It takes just one spark is the pinnacle event for Senior Move Managers. We guarantee NASMM 2016 will provide you with groundbreaking strategies and tactics to help you turn up the heat on your business, and give you the fuel you need to blow away your competition. Registrations continue to pour in for NASMM 2016! If you haven't registered yet, take advantage of early bird rates by registering before December 1.
There are limited rooms available at the La Cantera Hill Country Resort. If you have not made a reservation, contact the resort directly at 855-499-2960 to make your reservation. Be sure to mention you are with NASMM's 2016 Annual Conference. Read More

NASMM 2016 Conference Roommate Service
Looking for a roommate to help offset expenses and enhance your NASMM 2016 Conference experience? NASMM can help. We have an e-List specifically designed to help you find a conference roommate.
Simply send your email to ConferenceRoommate@nasmm.org.
Make sure you include the following in your email:
Your arrival and departure dates
Your company name and location
Whether you have a room and are looking for a roommate or if you do not have a room and are looking for someone who does.
All replies to your post will be sent directly to you.
More National Press for NASMM!
NASMM is featured in the November 9th issue of Woman's World Magazine. NASMM's Mary Kay Buysee is interviewed about the Senior Move Management profession and what it takes to downsize older adults! On newsstands now!
Read More

NASMM A+ Accreditation — What are you waiting for?
25 NASMM members have achieved the highest level of recognition a Senior Move Management company can earn — NASMM A+ Accreditation, and another dozen have applications in process! If you are planning on pursuing NASMM A+ Accreditation, consider the following:
All NASMM A+ Accredited companies are featured first on the Find A Senior Move Manager search on the NASMM website.
NASMM A+ Accreditation requirements are increasing for 2016.
Companies who purchase the NASMM A+ Accreditation Application in 2015 will follow 2015 accreditation guidelines.
You can purchase the NASMM A+ Accreditation application at any time, however, there are only four (4) submission windows each year — January, April, July & October.
October 31 is the last day you can submit your NASMM A+ Accreditation application for 2015.
Read More
---

The Young Old Decade: Just Enough Left To Make A Difference
Spanning ages 65-74, young old is the first of four gradations of being old and serves as a transition zone in which the psychological tasks of middle age give way to the final marching orders: control and legacy. Read More
Small Spaces: Design Changes Can Make Home Appropriate for Aging in Place
The main issue is that no one wants to talk about or think about himself or herself in a reduced state of mobility or function. Read More
What Old Age Is Really Like
What does it feel like to be old? Not middle-aged, or late-middle-aged, but one of the members of the fastest-growing demographic: the "oldest old," those aged eighty-five and above? Read More
How Not to Be a Networking Leech: Tips for Seeking Professional Advice
Business people generally think of networking as a mutually beneficial meeting for both parties. But that's not usually what it is. Far more often, it is one person asking the other for a favor. Read More

The National Association of Senior Move Managers (NASMM) is the leading membership organization for Senior Move Managers in the United States, Canada and abroad. NASMM is recognized for its innovative programs and expertise related to Senior Move Management, transition and relocation issues affecting older adults.
NASMM
PO Box 209, Hinsdale, IL 60522
Phone: 877.606.2766
www.nasmm.org