August 5, 2016


Now Accepting Applications for the 2017 Barry Iszak ~
Peg Guild Professional Development Scholarship
The Barry Izsak ~ Peg Guild Professional Development Scholarship was established in 2013 to help NASMM members who might otherwise not be able to attend the NASMM Annual Conference for financial or other extenuating circumstances.
Every year, the NASMM Board will select two (2) scholarship recipients who will receive a complimentary conference registration for the following year. The deadline to submit an application is Wednesday, August 31.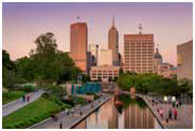 Make Your Hotel Reservations for NASMM 2017!
Beautifully designed, modern and refined, the Hyatt Regency downtown Indy offers spacious guest rooms featuring a refreshing blend of hospitality and urban vibrancy the Indy Hyatt is the ideal destination to work, relax and discover the city. If you're looking for prime central location, the Hyatt Regency Indianapolis has it. Located in the heart of downtown Indy, the Hyatt is connected by climate-controlled skywalks to shopping, dining and fun
Don't wait to book your room — the NASMM room block will sell out!
NASMM is pleased to offer a $169.00 (single or double occupancy) room rate. To make your reservation, click here to access NASMM's online reservation portal or call the Hyatt Regency Indianapolis at 317-632-1234. Be sure to mention you are with the NASMM 2017 Annual Conference.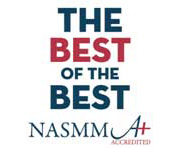 New A+ Accreditation Standards Coming October 1! Purchase Your Application Now to Apply Under Current Standards
Over 30 NASMM members have achieved the highest level of recognition a Senior Move Management company can earn — NASMM A+ Accreditation, and another dozen have applications in process! New A+ Accreditation requirements will go into effect in October. Purchase your application now to be "grandfathered" in under the current A+ Standards. If you are planning on pursuing NASMM A+ Accreditation, consider the following:
All NASMM A+ Accredited companies are featured first on the Find A Senior Move Manager search on the NASMM website.
NASMM A+ Accreditation requirements are increasing in October.
Companies who purchase the NASMM A+ Accreditation Application before October 1 will follow current accreditation guidelines.
You can purchase the NASMM A+ Accreditation application at any time, however, there are only four (4) submission windows each year - January, April, July & October.
The application allows you to submit your information over time – you can save your work and come in and out of the application.
---

NASMM in The New York Times on Sunday, July 24th!
In her long career as a psychiatrist, Dr. Phyllis Harrison-Ross has been described by friends and colleagues as practical and calm. But two other traits, humor and patience, went right out the window when she decided to downsize. "You ask yourself what you want to keep, and the answer is 'everything,'" said Dr. Harrison-Ross, who turns 80 next month. "It's an emotional roller coaster that takes a toll on you. It's very tiring."
Read more.
New Research Just Released! Moving Actually Gives You a More Memorable Life!
Your memories of events that happen just before and just after a move seem to stand out as feeling especially vivid, argue a trio of researchers from the University of New Hampshire, in a paper recently published in the Journal of Experimental Psychology: General.
Read more.
How 'Emotional Labor' Burns Out Senior Living Staff
Senior living frontline staff learn to master many skills on the job — including, as it turns out, a type of behavior that they feel is expected of them and can lead to burnout. Specifically, these staff regularly engage in surface acting, which means acting one way on the surface but feeling another way on the inside, all while not empathizing with the other person they're interacting with.
Read more.
Understanding Ageless Marketing
If you are among those that believe there are easy steps or simple typologies that will ensure success in the aging marketplace, you are on a fool's errand. The typical boomer, like the typical senior, is as much like other older adults as a snowflake is typical. Consumers become more dissimilar as they age, not more alike, although they share common 'gut level' values.
Read more.
Unique Client Gift Idea
Looking for a unique gift for clients moving out of state?
Check this out.
The National Association of Senior Move Managers (NASMM) is the leading membership organization for Senior Move Managers in the United States, Canada and abroad. NASMM is recognized for its innovative programs and expertise related to Senior Move Management, transition and relocation issues affecting older adults.
NASMM
PO Box 209, Hinsdale, IL 60522
Phone: 877.606.2766
www.nasmm.org