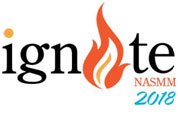 NASMM Now Accepting Ignite Submissions for NASMM 2018!
Consider being part of an innovative and exciting learning format — NASMM 2018 Ignite — a showcase of five-minute talks that might be bold, possibly brash, maybe even brilliant — but never boring! It's the learning format that's fast, fun, and focused where each speaker gets 20 slides, auto-advancing every 15 seconds, for 5 minutes total.
The international Ignite motto is "enlighten us, but make it quick!" Thus, Ignite is storytelling more than presenting. Given five minutes to speak with brief visual aides, what would you share with other SMMs? What would you most like to learn from your colleagues? Would you tell a humorous story? Teach a hack? Explain your passion for an unusual hobby?
NASMM 2018 Ignite is taking place in Indianapolis on Tuesday, February 27, 2018. Are you up for the challenge? Click here to view the submission form.