July 20, 2018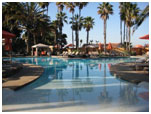 Rooms are Going Fast! Reserve for NASMM 2019 in San Diego Now!
NASMM 2019 will be held March 7-10, 2019 at the San Diego Hilton Resort & Spa! Located on scenic Mission Bay, our San Diego resort is situated on an 18-acre park with lush gardens and rolling lawns, just steps from the beach. NASMM 2019 Attendees will be treated to a newly renovated resort on the shore of Mission Bay. With 80% of the room block already sold, we strongly recommend you make your reservations soon — our block will sell out. The room rate is $189 Single or Double Occupancy.
Call Hilton Hotels central reservations at 800-445-8667
Reference group code NAS319 or National Association of Senior Move Managers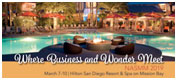 Thank You to NASMM's Proposal Review Task Force
NASMM would like to recognize and thank the 2019 Proposal Review Task Force participants. These individuals are responsible for reviewing education proposals for NASMM's 2019 Annual Conference. This year's task force participants include:
Jennie Alwood, Here to Home, Inc, Durham, NC
Patricia Bernabei, Sort it Out, LLC, Newton, MA
Gay Douglas, Trustworthy Transitions, Stevensville, ON
Carolyn Parmer, Golidlocks Solutions, LLC, Eureka, MO
Carolyn Rowe, The Move Maker, LLC, Lake Oswego, OR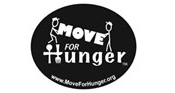 NASMM 100 Can Challenge Results
The results are in for NASMM's 5th Annual North American Food Drive! This year, 33 NASMM members participated in NASMM's 100 Can Challenge and collected more than 7,000 lbs. of food, a new record! A grand total of 7,064 lbs. of food was delivered to food banks and pantries nationwide, that's enough to provide nearly 5,900 meals! Click here to read more and see the list of participants.

Barry Izsak~Peg Guild Scholarship Applications
The Barry Izsak ~ Peg Guild Professional Development Scholarship was established in 2013 to help NASMM members who might otherwise not be able to attend the NASMM Annual Conference for financial or other extenuating circumstances. Each year, the NASMM Board will select two (2) scholarship recipients who will receive a complimentary conference registration for the following year.
Applications are due by Friday, September 14. Click here to learn more and apply.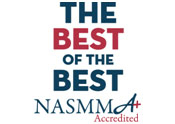 NASMM A+ Submission Window Open Until 7/31/2018
The next quarterly submission window for NASMM A+ Applicants is July 1-31. If you are in the submission process, you can submit your completed applications during this time. Submitted applications will be reviewed in August with decisions rendered by early September.

NASMM SMM~C Application Flash Sale — What are You Waiting For?
NASMM's Senior Move Manager ~ Certified (SMM~C) application is on sale until July 31! Purchase your SMM~C Application now and save $100. The SMM~C is the only certification for Senior Move Managers based on both knowledge and experience; and the only designation for Senior Move Managers offered by a not-for-profit organization. Click here to purchase.

NASMM Welcomes New Industry Partner — Flying Angels
After last week's robust discussion about assisting clients with transportation, NASMM is pleased to welcome our new Industry Partner, Flying Angels! Flying Angels provides non-emergency medical transport anywhere in the US, or the world, on commercial airlines such as Delta, America, Lufthansa, etc. Patients fly in First or Business class with a Flight Nurse or physician accompanying them. Flying Angels assists seniors with minimal needs, to patients with mobility impairment, oxygen dependency, cognitive impairment, or more serious medical conditions. Flying Angels handles all of the details, bedside to bedside.
For more information, contact Bob Bob Bacheler at 610-228-4667 or bbacheler@flyingangels.com. Visit their website at flyingangels.com.

NASMM Welcomes Hollander International — New NASMM Industry Partner
Hollander International Storage and Moving Co., is a full service moving and storage company offering local and long distance, specialized senior moving services. Hollander senior move consultants work with family members, organizational firms and Independent/Assisted Living/Memory care facilities to minimize chaos, to ease the emotional burden on families and to help transition the senior into their new home with as little stress as possible. We offer high value packing services, resources for high value furniture servicing, specialized assistance with multiple pick-ups and deliveries and help with storage when needed. Hollander's affiliation with UniGroup allows us to offer long distance moving with consistent, quality service anywhere in the US. Our relationships within the van line agency network allows to effectively manage costs and avoid last minute surprises and to plan for deliveries in a well communicated manner.
For more information, contact Patti Fairman at 847-815-1991 | pfairman@hollandermoving.com or visit HollanderMoving.com

NASMM Offers New Office Depot/Office Max Discount Program
Office Depot® and National Association of Senior Move Managers have partnered to provide exclusive benefits and savings to its members including:
Customized pricing to fit the specific needs of your business
Curated assortment of products and services
The flexibility to shop online at business.officedepot.com and at any of our retail locations with your Store Purchasing Card
FREE, next-business-day delivery on qualifying orders of $50 or more within our local delivery areas. (See our Terms and Conditions for details.)
World class customer service for quick problem resolution
Experienced account managers to help improve productivity and uncover cost savings
Convenient payment options including single account billing or consolidated billing for multiple locations
To register, or log in, click here.
To download your store purchasing card, click here.

NASMM 2018 Conference Recordings on Sale
Missed NASMM 2018? You can purchase recordings of the conference! Twenty-five sessions featuring over 30 hours of presentations is available!
Click here to learn more!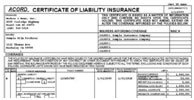 Is Your Insurance Current?
All NASMM General Members are required to carry General Business Liability and keep a copy of Certificate of Insurance (COI) on file. NASMM audits members for insurance and removes members from the "Find A Senior Move Manager" map if insurance is not current. To update your "MyNASMM" account with your current insurance, follow these instructions:
Log into "MY NASMM"
Click on the orange "Manage My NASMM" box
Click on "My Profile" — this will bring up your company profile
Click on the blue box at the top of your profile — "Edit company information"
Edit your information
If you need to upload your certificate of insurance or letters of recommendation, scroll down to the bottom of your company profile to the upload fields. Please make sure these files are saved as .pdf files.
Upload your files from your computer
Hit the blue submit button at the bottom to save your changes
---

Scientists Find Clever Way to Help You De-clutter Your Home
If your attic is full of stuff you no longer use but can't bear to give away, a new study may offer you a simple solution.
Read more.
How Design is Helping People with Dementia Find Their Way Around
For people with Alzheimer's and other degenerative diseases, just navigating around the house can be difficult and disorientating. But some pioneering approaches are offering new solutions.
Read more.
Front Porch Going Big on Amazon Echo After Successful Pilot
Experts have called voice technology the future of senior living — and now there's concrete evidence to support their claim.
Read more.
The National Association of Senior Move Managers (NASMM) is the leading membership organization for Senior Move Managers in the United States, Canada and abroad. NASMM is recognized for its innovative programs and expertise related to Senior Move Management, transition and relocation issues affecting older adults.
NASMM
PO Box 209, Hinsdale, IL 60522
Phone: 877.606.2766
www.nasmm.org