July 1, 2016


Final Call for Proposals for NASMM 2017!
Join innovators, icons and industry experts as they talk, show and teach! This event is your opportunity to serve as a presenter for the NASMM 2017 Annual. NASMM's three-day conference attracts the best and brightest Senior Move Managers who are looking to advance their career, connect with colleagues and learn new techniques to enhance and expand their Senior Move Management services.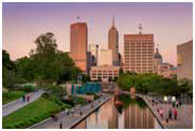 Make Your Hotel Reservations for NASMM 2017!
Beautifully designed, modern and refined, the Hyatt Regency downtown Indy offers spacious guest rooms featuring a refreshing blend of hospitality and urban vibrancy the Indy Hyatt is the ideal destination to work, relax and discover the city. If you're looking for prime central location, the Hyatt Regency Indianapolis has it. Located in the heart of downtown Indy, the Hyatt is connected by climate-controlled skywalks to shopping, dining and fun.
Don't wait to book your room — the NASMM room block will sell out!
NASMM is pleased to offer a $169.00 (single or double occupancy) room rate. To make your reservation, click here to access NASMM's online reservation portal or call the Hyatt Regency Indianapolis at 317-632-1234. Be sure to mention you are with the NASMM 2017 Annual Conference.

Now Accepting Applications for the 2017 Barry Iszak ~
Peg Guild Professional Development Scholarship
The Barry Izsak ~ Peg Guild Professional Development Scholarship was established in 2013 to help NASMM members who might otherwise not be able to attend the NASMM Annual Conference for financial or other extenuating circumstances.
Every year, the NASMM Board will select two (2) scholarship recipients who will receive a complimentary conference registration for the following year. The deadline to submit an application is Wednesday, August 31.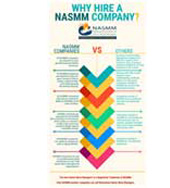 New! Customizable Infographic/Flyer — Why Hire a NASMM Company?
NASMM is pleased to provide you with a new tool to assist you in your marketing. This infographic/flyer provides your clients and referral sources with compelling reasons to hire a NASMM member. Visit the "Marketing Tools" section of "MyNASMM," download the file into Microsoft Word and customize the text box with your logo and contact information.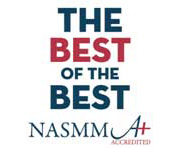 The Best of the Best! Next NASMM A+ Accreditation Window
Opens July 1!
30 NASMM members have achieved the highest level of recognition a Senior Move Management company can earn — NASMM A+ Accreditation, and another dozen have applications in process! If you are planning on pursuing NASMM A+ Accreditation, consider the following:
All NASMM A+ Accredited companies are featured first on the Find A Senior Move Manager search on the NASMM website.
NASMM A+ Accreditation requirements are increasing later this year.
Companies who purchase the NASMM A+ Accreditation Application in now will follow current accreditation guidelines.
You can purchase the NASMM A+ Accreditation application at any time, however, there are only four (4) submission windows each year — January, April, July & October.
The application allows you to submit your information over time — you can save your work and come in and out of the application.
The next application window opens on July 1!
---

5 Top Trends in Social Media — 2016


Did you know: Around 84% of communication will be visual by 2018
Did you know: 95% of B2B Buyers prefer short, bite-sized content
Did you know: Posts that include images produce 650 percent higher engagement than text-only posts

2015 was a great year for social media, but 2016 has some new trends. As a small business owner, you need to stay up to date with the trends in social media to make sure you are connecting with your target audience in the way they want you to connect with them.
Read more.
Study: Aging Population Will Have Profound Effects on Housing Demand
Growth in the nation's adult population will drive significant household growth over the next decade and beyond, according to the just-released State of the Nation's Housing: 2016 from Harvard University's Joint Center for Housing Studies.

Demographic changes will drive the addition of more than 13 million households from 2015 to 2025. Much of the growth will occur among retirement-aged population with the number of households age 70 and over projected to rise by more than 8 million, or more than 40 percent. The increases will push up the share of older households from 16 percent in 2015 to about 21 percent in 2025.
Read more.
17 Handy Tools for Entrepreneurs, Startups, and Marketers
Building a business is never easy, but thanks to ever-developing technology you have access to useful and effective tools that can simplify almost all aspects of a business — from facilitating entrepreneurial journeys to minimizing distractions while building up a brand.
Read more.
Leadership Language: Why Your Word Choices Matter
Common wisdom about leadership often favors "leading by example," so you might not think too much about the way your team interprets what you say. But the truth is, the words and phrases you use can have a very real impact on your team's morale and productivity.

"Words are important," said Isaac Oates, CEO of Justworks, an HR, benefits and payroll platform. "It's through our words that we communicate our intentions. They are the main tools that we have for sharing our vision with our teams."
Read more.
The National Association of Senior Move Managers (NASMM) is the leading membership organization for Senior Move Managers in the United States, Canada and abroad. NASMM is recognized for its innovative programs and expertise related to Senior Move Management, transition and relocation issues affecting older adults.
NASMM
PO Box 209, Hinsdale, IL 60522
Phone: 877.606.2766
www.nasmm.org