June 9, 2017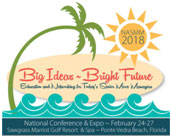 Now Accepting Proposals for NASMM 2018
Our best sessions often come from member presenters. You are the experts in Senior Move Management! Share your talents by presenting at NASMM 2018. NASMM is now accepting proposals for our upcoming national convention — why not share your expertise?

NASMM Now Accepting Applications for the Barry Izsak~Peg Guild Scholarship
The Barry Izsak ~ Peg Guild Professional Development Scholarship was established in 2013 to help NASMM members who might otherwise not be able to attend the NASMM Annual Conference for financial or other extenuating circumstances.
Every year, the NASMM Board will select two (2) scholarship recipients who will receive a complimentary conference registration for the following year.
Click here to read more about the development of the Barry Izsak~Peg Guild scholarship fund.
Click here to learn more about the application process and to access the scholarship application.

NASMM Welcomes New Industry Partner: Accelerated International
Accelerated International "Where every move is personal", is our motto, and that is how we treat our clients. We move lives. We deliver. Accelerated International coordinates the movement of household goods and personal belongings both domestically and internationally.
We pride ourselves on:
Integrity
Technology
Expertise
Customer Service
Quality
Communication
Flexibility
We understand that moving can be trying for everyone. Beside our team's training in very "hand-holding" type of customer service, our president has developed amazing technology, we call that "WorldLink". With our system we are able to manage moves with the greatest efficiency and organization, all staff have full visibility of every detail of a move, ensuring a prompt response. Plus this technology allows us to be quick in our quoting response time, and up to the moment load availability for all moves.
As licensed Freight Forwarders – we have many years of experience relocating individuals internationally. As US Truck Brokers – we have many options for domestic/long distance moving, especially for those smaller moves, that typically get lost in the shuffle, or shuttled off one truck to another before making it to its final destination.
Our team leaders are of the baby boomer generation. We understand aging "self" and parents. We are compassionate towards the TLC needed. Working alongside Senior Move Managers is the perfect match for us. Contact Janice Turner at 917-863-0043 or janet.turner@accelerated-international.com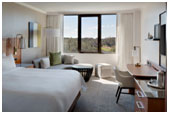 Make Your Room Reservations for NASMM 2018!
Members are clearly excited about the location of NASMM's 2018 to be held February 24-27 at the Sawgrass Marriott Golf Resort and Spa in Ponte Vedra Beach, FL. Rooms are flying out of our block! You can make your reservation now, by clicking here or by contacting the hotel at (800) 457-4653. Be sure to mention you are with NASMM's 2018 Annual Conference. The room rate is an incredible $175.00 for this newly renovated, 4 star, luxury resort!

NASMM Launches New Online Marketplace
NASMM is pleased to announce the launch of our brand new Online market place — an online store that provides a one-stop-shop for accessing over a million products and services from a diverse portfolio of supplier partners.
These products and services offer aggressively negotiated pricing and terms and conditions than most of our members could likely secure on their own. And when you shop the NASMM eMarketplace, the suppliers return a modest portion of their profits back to NASMM, providing valuable funding toward fulfilling our collective mission.
The eMarketplace has features and functions designed to save you time and money:
Catalog-based search function lets you buy like a procurement professional
User-created shopping lists provide easy access to commonly purchased items
Powerful reporting tools help you better manage spending
Single checkout process makes it quick and easy to buy from multiple suppliers
To begin shopping, simply visit the "Business Solutions" page of "MyNASMM" and click on the NASMM Marketplace option.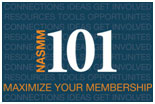 Next NASMM 101 is Monday, June 26
Designed for NEW NASMM members, NASMM 101 is a unique opportunity for you to learn how to maximize your NASMM membership. The NASMM staff will take you through the myriad of member benefits you enjoy as a NASMM member, and provide you with overviews of the programs, products and services.
The 1-hour conference call allows you to explore NASMM's many resources and tools while offering you an opportunity to submit questions. The call will be held on Monday, June 26 at 12:00 pm ET (11:00 am CT | 10:00 am MT | 9:00 am PT)
Limited space is available and pre-registration is required. Click here to register.

NASMM 2017 Session Recordings
You can purchase recordings of ALL the sessions offered at NASMM 2017! Individual sessions can be purchased for $25 each or purchase all the conference sessions at discounted packages. Click here to order.
---
Don't call people 'old' until death is near, says gerontologist
People should not be called old until they are seriously frail, dependent and approaching death, one of the UK's leading social scientists has told Hay festival. Sarah Harper, a gerontologist who is director of the Oxford Institute of Ageing, proposed a different approach to the language we use about ageing, suggesting that people in their 60s and possibly 70s and 80s should still be considered active adults.
Read more.
App will assess dementia-friendliness of senior living communities
An app designed to help make senior living communities and other settings more suitable for older adults and those with dementia should be ready for download by Sept. 21, World Alzheimer's Day, according to its developers.
Read more.
The New Aging Dilemma, Growing Older at Home Alone
There's a hidden segment of the older adult population that the healthcare industry has recently spotted. It's the aging single group of people 55 and over. They are the aged, community-dwelling individuals who are socially and physically isolated, without an available known family member or designated surrogate. They've been in plain sight for decades, but since boomers enter the 60 years, the aging single demographic will intensify, due to their status of having the highest divorce rates and childless marriages.
Read more.
Cash-Strapped American Seniors Turn to Assisted Living Centers In Mexico
People are living longer, which means they need their retirement savings to stretch further than before. Some retirees are choosing an unusual option to make their money last longer. They are moving to assisted living centers in Mexico.
Read more.
The National Association of Senior Move Managers (NASMM) is the leading membership organization for Senior Move Managers in the United States, Canada and abroad. NASMM is recognized for its innovative programs and expertise related to Senior Move Management, transition and relocation issues affecting older adults.
NASMM
PO Box 209, Hinsdale, IL 60522
Phone: 877.606.2766
www.nasmm.org