May 26, 2017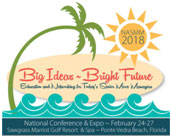 Now Accepting Proposals for NASMM 2018
Our best sessions often come from member presenters. You are the experts in Senior Move Management! Share your talents by presenting at NASMM 2018. NASMM is now accepting proposals for our upcoming national convention — why not share your expertise?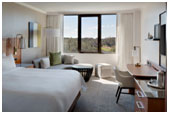 Make Your Room Reservations for NASMM 2018!
Members are clearly excited about the location of NASMM's 2018 to be held February 24-27 at the Sawgrass Marriott Golf Resort and Spa in Ponte Vedra Beach, FL. Rooms are flying out of our block! You can make your reservation now, by clicking here or by contacting the hotel at (800) 457-4653. Be sure to mention you are with NASMM's 2018 Annual Conference. The room rate is an incredible $175.00 for this newly renovated, 4 star, luxury resort!

NASMM Launches New Online Marketplace
NASMM is pleased to announce the launch of our brand new Online market place — an online store that provides a one-stop-shop for accessing over a million products and services from a diverse portfolio of supplier partners.
These products and services offer aggressively negotiated pricing and terms and conditions than most of our members could likely secure on their own. And when you shop the NASMM eMarketplace, the suppliers return a modest portion of their profits back to NASMM, providing valuable funding toward fulfilling our collective mission.
The eMarketplace has features and functions designed to save you time and money:
Catalog-based search function lets you buy like a procurement professional
User-created shopping lists provide easy access to commonly purchased items
Powerful reporting tools help you better manage spending
Single checkout process makes it quick and easy to buy from multiple suppliers
To begin shopping, simply visit the "Business Solutions" page of "MyNASMM" and click on the NASMM Marketplace option.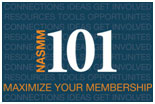 Next NASMM 101 is Monday, June 26
Designed for NEW NASMM members, NASMM 101 is a unique opportunity for you to learn how to maximize your NASMM membership. The NASMM staff will take you through the myriad of member benefits you enjoy as a NASMM member, and provide you with overviews of the programs, products and services.
The 1-hour conference call allows you to explore NASMM's many resources and tools while offering you an opportunity to submit questions. The call will be held on Monday, June 26 at 12:00 pm ET (11:00 am CT | 10:00 am MT | 9:00 am PT)
Limited space is available and pre-registration is required. Click here to register.

NASMM 2017 Session Recordings
You can purchase recordings of ALL the sessions offered at NASMM 2017! Individual sessions can be purchased for $25 each or purchase all the conference sessions at discounted packages. Click here to order.
---
To Bequeath a Burden
Many of us grew up with the notion we should leave heirlooms and other possessions for our children and grandchildren; a physical legacy of who came before us and where we came from. Not all of us, though, have the ability to objectively recognize what a "good inheritance" really is.
Read more.
7 Ways to Connect with Your Elderly Clients
The benefits of communicating effectively with your senior clients are clear: it helps them gain control of their financial lives and ensure their legacy. In business terms, it can position you to help the whole family, not just one generation. But the art of communicating with the elderly takes practice, and it's more complicated than you think.
Read more.
Forget millennials: Seniors are poised to reshape the housing market
Today's parents or grandparents will be part of a historically large surge in the senior population poised to transform the housing market, and, according to many caregivers, architects, and researchers, challenge our system of low-income assistance. More broadly, this surge may change our attitudes toward aging. Solutions will require not only more support from state and local governments, but also a rethink of how we design spaces for this population.
Read more.
The Difficulty of Holding Other People's Pasts in Your Hands
I still have some leftovers of my mother's life, although she died 15 years ago. Books, files, knick-knacks and doodads. And some of my husband's old books and files have yet to be dealt with, although he has also been gone from the house for 15 years, first to a nursing home, and three years ago to the end of his life.
Read more.
The National Association of Senior Move Managers (NASMM) is the leading membership organization for Senior Move Managers in the United States, Canada and abroad. NASMM is recognized for its innovative programs and expertise related to Senior Move Management, transition and relocation issues affecting older adults.
NASMM
PO Box 209, Hinsdale, IL 60522
Phone: 877.606.2766
www.nasmm.org