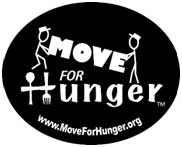 Support NASMM's 2017 North American Food Drive — 100 Can Challenge!
NASMM will hold our annual North American Food Drive during the month of May. NASMM is challenging all members to collect 100 cans of food to support our philanthropic partner, Move For Hunger. If each NASMM member collects 100 cans, as an organization, we can donate 100,000 pounds of food!
The 100 can challenge is designed to make it easy! You can collect from clients, neighbors, friends, employees — it doesn't have to be a big project! Move For Hunger can help you find a food bank in your area, or, a mover who can weigh and deliver the food for you!
More information on the Move For Hunger 2017 Food Drive Can be found in the Philanthropic Partner section of "MyNASMM."