Click here to view in browser | Forward to a friend

March 11, 2016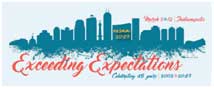 Put It On Your Calendar Now!
NASMM 2017: March 9-12 • Indianapolis
NASMM turns 15 in 2017 — celebrate all things Senior Move Management at NASMM's 2017 Annual Conference! Start planning now to attend next year's Annual Conference! Promising to showcase Senior Move Management's hottest topics and brightest ideas, NASMM 2017 will bring the leading providers of Senior Move Management together to learn new strategies, develop new ways of doing business, explore new resources, and establish new business partnerships.
The Hyatt Regency Downtown Indy is the site of NASMM 2017. NASMM is happy to offer a $169 rate — single or double occupancy. Make your reservations now! Our room block always sells out! Click here to access NASMM's online reservation portal.
Indianapolis Will Exceed Your Expectations
NASMM is delighted to call Indianapolis home for our 2017 national conference. Voted the #1 city for conventions in the US by USA Today, you'll experience Midwest hospitality in a truly modern and vibrant city. World-class restaurants, shopping and entertainment are just steps away from our host hotel, the Hyatt Regency.

Click here to see just what the buzz is all about!
Barry Izsak Chosen for 2016 Margit Novack Award
Barry Izsack, owner of Arranging it All in Austin, TX was presented with the Margit Novack Award for Outstanding Contributions to Senior Move Management during NASMM's Annual Conference.
Read more.
NASMM 2016 Session Recordings On Sale
Miss NASMM 2016? You can purchase recordings of most sessions by clicking here.
National Senior Move Managers Week — May 8-14, 2016
NASMM has announced that May 8-14 is National Senior Move Managers week. During this recognition week, NASMM and NASMM members around the US, Canada, United Kingdom and Australia are promoting the value of Senior Move Management and Senior Move Managers' commitment to assisting older adults and their families with later lifestyle transitions. NASMM members can access the logo and a press release for this year's celebration in the "Marketing Tools" section of "MyNASMM."
Read more.
NASMM 2016 Food Drive
In conjunction with National Senior Move Managers Week, NASMM will be hosting our North American Food Drive during the Month of May. In partnership with Move For Hunger, NASMM members are encouraged to host their own food drives. More information is available in the Philanthropic Partners section of "My NASMM."
To sign up to participate, click here!
---
NASMM@Home in The New York Times!
NASMM@Home — NASMM's age-in-place program — receives top billing in The New York Times!
Click here.
Home is Where Your Health Is
NASMM is also featured in United Healthcare's quarterly newsletter, Renew — distributed to its thousands of healthcare plan subscribers via their employers! (We're on pp. 19-22.)
Read more.
What Aging Parents Want From Their Kids
There's a fine line between caring and controlling, but older adults & their grown children often disagree on where it is.
Read more.
The Importance of a Family Album
A recent question in The Ethicist column in the New York Times asked if there was an ethical obligation for siblings to share the family photo album after the death of a parent. A brother took the albums, with an agreement to duplicate them for the other two siblings.
Read more.

The National Association of Senior Move Managers (NASMM) is the leading membership organization for Senior Move Managers in the United States, Canada and abroad. NASMM is recognized for its innovative programs and expertise related to Senior Move Management, transition and relocation issues affecting older adults.
NASMM
PO Box 209, Hinsdale, IL 60522
Phone: 877.606.2766
www.nasmm.org