February 17, 2017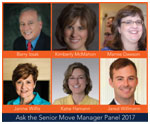 Submit Your Questions for NASMM's 2017 Ask the Senior Move Manager panel!
We are delighted to host NASMM's 4th annual Ask the Senior Move Manager panel at NASMM 2017. During our time together, you'll enjoy a front row seat as we pose tough, perplexing, and provocative questions to an invited group of experienced NASMM members.
Our powerhouse panel will thoughtfully (and candidly) answer a wide range of questions our members will submit in writing prior to the start of the conference. Whether you've been in business for 6 months or 6 years, you'll not want to miss this exciting learning opportunity — consistently rated as one of the top 3 sessions at our past conferences!
To optimize the experience for all attendees, we would like your input. We are asking you to submit up to two (2) questions in advance. Any question related to Senior Move Management is welcome, no matter how simple or how complex. Questions must be submitted by Wednesday, February 22!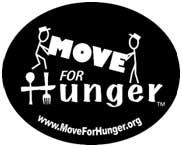 Mark Your Calendars for NASMM's North American Food Drive — May 2017
Mark you calendars! NASMM's North American Move for Hunger Food Drive is quickly approaching. Our annual drive is scheduled for the month of May, May 1st - May 31st so start planning now! All contributions are welcomed and appreciated! Just 10 cans of food make an impact! Imagine what we could do if each NASMM member company contributed just 100 cans.
There are many ways to collect food. Of course, you can run your own food drive in a community you serve or within your own living community, but you it doesn't have to be a grand initiative. Keep it simple! Consider your own pantries, ask your team to bring in a certain number of cans, or ask your movers to bring food to your next job. Any effort helps those in need!
Remember, each contribution makes a difference! It takes us all. More information coming in March!

Another Great Benefit of Attending NASMM 2017 — Professional Headshots by Award-Winning Photographer, Nick Kelsh!
It's not everyday you can have your photo taken by a nationally-acclaimed photographer! NASMM is proud to introduce you to award-winning photographer — Nick Kelsh!
Author of nine books, Nick has appeared on Oprah and The Today Show. He has been featured in Time, Life, Newsweek, National Geographic, The New Yorker and Fortune. Nick will be both a presenter and exhibitor at NASMM 2017. He is presenting "The Business Advantage: Picture-Perfect Smartphone Photos" on Friday, March 11th!
Additionally, Nick will have a pop-up photo studio set up in the exhibit hall on Thursday, March 9 and Friday, March 10 to take your photo! This is a one-of-a-kind opportunity to have your photo taken professionally, at an incredibly low price!
Limited sittings are available, so register for your headshot now!
NASMM In the News!
NASMM has been featured in the Chicago Tribune, PBS Next Avenue and Forbes Magazine in the last two weeks! Check out NASMM's Facebook page to read the great articles that promote the many benefits of using a Senior Move Manager®! Click on the image at the bottom of this e-Newsletter and read the article that appeared in Forbes this week.
---
Harvard study: Elderly Demographics Will Crush Existing Housing & Service Options
The nation's surging elderly population will create unprecedented demand for affordable housing and service options within two decades, a Harvard University study asserts. In fact, rising needs will far outstrip current capacity on both fronts, according to "Projections and Implications for Housing a Growing Population: Older Adults 2015-2035."
Read more.
Speaking of Generations
When is it accurate, and therefore acceptable, to generalize about generations? Are stereotypes about Greatest/Traditionalist Generations, Baby Boomers, Gen Xers, and Millennials valid, or do they instead promote misunderstanding, polarization, and ageism?
Read more.
7 Tips for Selling to Seniors
Today's sales counselors are working with baby boomers, whether they're the potential resident or the adult child searching for their parent. Either way, it's a different world in senior living sales.
Read more.
Entrepreneur On Fire Podcast Featuring Pak Mail President & CEO, Alex Zai
Pak Mail President and CEO Alex Zai was a guest on John Lee Dumas's highly acclaimed podcast, Entrepreneur on Fire. Alex discusses his entrepreneurial journey from small business owner to CEO of Pak Mail and what keeps him going after 27+ years in the system. Everything is covered, from trials and tribulations to where to look for inspiration. John and Alex also talk about what makes a great small business owner.
Read more.
***Pak Mail is a longtime NASMM Industry Partner, and Alex has spoken at past NASMM conferences!
The National Association of Senior Move Managers (NASMM) is the leading membership organization for Senior Move Managers in the United States, Canada and abroad. NASMM is recognized for its innovative programs and expertise related to Senior Move Management, transition and relocation issues affecting older adults.
NASMM
PO Box 209, Hinsdale, IL 60522
Phone: 877.606.2766
www.nasmm.org