February 5, 2016

And Then This Happened!
NASMM is featured in AARP's newly released book, Downsizing the Family Home!
Click here to read!
But Wait — There's More!
The American Moving & Storage Association (AMSA) is featuring NASMM in its January-February 2016 issue! Senior Move Managers® appreciate their trusted and preferred AMSA moving companies — especially for all of our older adult clients & families!
Click here to take a look!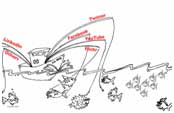 Are You Missing the Social Media Boat?
These days, it isn't enough to have a website for your business — your digital storefront extends to social media marketing sites like Facebook and Twitter, and it's time to start capitalizing on it. If your company still doesn't have a Twitter account or a Facebook page, it's time to get with the program and bring yourself up to speed (or risk falling behind your competition).
NASMM has a very active and aggressive social media strategy. From Facebook, Twitter and LinkedIn to our blog, we are constantly posting! Over the past month, NASMM's Facebook posts, alone, have reached almost 1 million people. Recently, one of our Facebook posts had a remarkable 11,971 likes, 6,576 shares and nearly 700 comments.
A successful social media strategy takes time — we get it! But the beauty of social media is you don't need to reinvent the wheel — you can simply share NASMM's posts. Looking for content — it's there for the taking — Moving Matters, social media posts, the NASMM blog and the NASMM press room provide you with robust content to share with your clients and referral sources.
SMM~C Conference Recognition
The new Senior Move Manager~Certified (SMM~C) recipients will be recognized during NASMM's Annual Conference on Saturday, February 27. If your application is currently in progress, please submit it by Monday, February 15 to be included in this recognition ceremony. If you haven't committed to NASMM's SMM~C program, there's still time!
Click here for SMM~C requirements and the submission process.
---

As the Population Ages, Where are the Geriatricians?
"Geriatrics is one of the few medical specialties in the United States that is contracting even as the need increases...Part of the reason aging has such a negative connotation is this sense that you can't cure older people's problems," said Dr. Kenneth Brummel-Smith, a professor of geriatrics at Florida State University College of Medicine in Tallahassee, Fla., a state with a particularly severe geriatrician shortage. "And yet a good geriatrician can bring someone back to functional status."

And this line rings particularly true for Senior Move Managers®: "Acknowledging an older person's need for dignity is an important part of Dr. Eckstrom's practice."
READ MORE
How to Make a Home Safe for Older Adults
Despite the range of care options available, older adults are increasingly choosing to stay at home. Here — in a handy chart — are are some key tips that will help you with your senior clients.
Download infographic here.
How to Ask for a Referral & Actually Get One
I listen to a lot of elevator speeches, and sometimes people ask for a referral and sometimes they don't. Much of the time, however, even when they ask, they ask for something vague. To get a referral, you need to be specific. Let's talk about how.
READ MORE
What's the Key to Great Customer Service?
What is the most important element of an excellent customer service experience? It's all about speed, according to a recent report from Verint. Survey participants were asked: "Thinking about a recent positive experience you had with a company, what made this experience better than your experiences with other companies?"
READ MORE
Overcoming Misconceptions
The majority of baby boomers — two-thirds — said they would likely would move an aging loved one to a senior living community, according to a recent survey commissioned by Holiday Retirement. These baby boomers cited several factors as highly or somewhat influential when considering senior living as an option for a loved one, including these three:
READ MORE
The National Association of Senior Move Managers (NASMM) is the leading membership organization for Senior Move Managers in the United States, Canada and abroad. NASMM is recognized for its innovative programs and expertise related to Senior Move Management, transition and relocation issues affecting older adults.
NASMM
PO Box 209, Hinsdale, IL 60522
Phone: 877.606.2766
www.nasmm.org